SHANGHAI, China, March 15, 2017 -- SEMI, the global industry association representing the electronics manufacturing supply chain, today announced it is driving a global approach for standardization of PCB assembly equipment communications. Working together with global PCB Assembly and EMS trade associations, SEMI is evolving its semiconductor communication protocols for Smart Manufacturing in Printed Circuit Board (PCB) assembly. This is being announced as the major players convene at SEMICON China (March 14-16 in Shanghai), the largest semiconductor and electronics manufacturing exhibition and conference, with co-location partners productronica, electronica, and Laser Photonics.
SMART Manufacturing is taking hold across the electronics industries as collecting and analyzing manufacturing data is increasingly required in all phases of manufacturing. SEMI led Smart Manufacturing Standards development for equipment connectivity, enabling highly automated semiconductor factories (fabs) with implementation of SEMI's Generic Model for Communications and Control of Manufacturing Equipment (GEM) protocols. SEMI's GEM has been foundational for semiconductor front-end Smart Manufacturing.
As new requirements for advanced packaging in the semiconductor back-end have increased manufacturing complexity, the same level of equipment communication is required. The PCB industry studied this issue in 2016 and surveyed available techniques, finally settling on SEMI's GEM as the best candidate technology infrastructure driven by TPCA in Taiwan. Many industries (e.g. Surface Mount Technology) are now evaluating the SEMI GEM Standard as a potential framework on which to establish a standard for global adoption.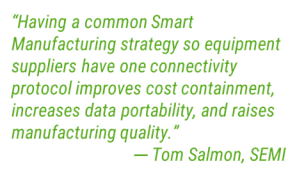 "With the lines blurring between semiconductor front-end, semi back-end, and PCB assembly, there is an opportunity to implement uniform Smart Manufacturing strategies across these industry segments," said Tom Salmon, VP of Collaborative Technology Platforms at SEMI. "Having a common Smart Manufacturing strategy so equipment suppliers have one connectivity protocol improves cost containment, increases data portability, and raises manufacturing quality. At SEMICON China with productronica, electronica, and Laser Photonics exhibition co-locations, it is easy to see the need for a common Standard and collaboration across these manufacturing segments."
Learn more about:
About SEMI
SEMI® connects nearly 2,000 member companies and 250,000 professionals worldwide annually to advance the technology and business of electronics manufacturing. SEMI members are responsible for the innovations in materials, design, equipment, software, and services that enable smarter, faster, more powerful, and more affordable electronic products. Since 1970, SEMI has built connections that have helped its members grow, create new markets, and address common industry challenges together. SEMI maintains offices in Bangalore, Beijing, Berlin, Brussels, Grenoble, Hsinchu, Seoul, Shanghai, Silicon Valley (Milpitas, Calif.), Singapore, Tokyo, and Washington, D.C. For more information, visit www.semi.org and follow SEMI on LinkedIn and Twitter.
Association Contacts:
Deborah Geiger/SEMI
Phone: 408.943.7988
Email: Email Contact