Hexagon's corresponding October 10, 2019 ASX announcement can accessed through the following link:
https://hexagonresources.com/wp-content/uploads/2019/10/20191010-HXG-Enters-US-Rare-Earths-Downstream-Processing-Industry_1983006.pdf
About Hexagon Resources Limited
Hexagon Resources Limited is listed on the Australian Securities Exchange ("ASX") under the ticker code " HXG". The Company holds a 100% interest in the McIntosh Graphite Project in Western Australia and an 80% interest in the Ceylon Graphite Project in Alabama, USA. With a current focus on the downstream processing of graphite and other energy materials, Hexagon has attained formidable technical knowledge based on test work of its McIntosh project flake-graphite material, which is applicable and highly valuable for a range of specialty-material applications. The Company's focus is on creating sustained shareholder value by maximizing near-term growth opportunities to commercialize that downstream business in the USA, where it has forged strong technical, commercial and investor relationships.
Learn more at www.hexagonresources.com
About Innovation Metals Corp.
Innovation Metals Corp. is a private Canadian company and developer of the proprietary RapidSX™ process for the low-cost separation and purification of rare-earth elements (REEs), Ni, Co, Li, and other technology metals, via an accelerated form of SX. IMC is commercializing this approach for a number of metals, to help enable mining and metal-recycling companies to compete in today's global marketplace.
Learn more at www.innovationmetals.com
Forward-Looking Statements
This news release contains projections and statements that may constitute "forward-looking statements" within the meaning of applicable United States, Canadian and other laws. Forward-looking statements in this release may include, among others, statements regarding the future plans, costs, objectives, or performance of Hexagon Resources Limited or the assumptions underlying any of the foregoing. In this news release, words such as "may", "could", "would", "will", "likely", "believe", "expect", "anticipate", "intend", "plan", "goal", "estimate," and similar words, and the negative forms thereof, are used to identify forward-looking statements. Forward-looking statements are subject to known and unknown risks, uncertainties and other factors that are beyond the control of Hexagon Resources Limited, and which may cause the actual results, level of activity, performance or achievements of Hexagon Resources Limited to be materially different from those expressed or implied by such forward-looking statements. Such risks and uncertainties could cause actual results, plans and objectives of Hexagon Resources Limited to differ materially from those expressed in the forward-looking information. Hexagon Resources Limited can offer no assurance that its plans will be completed. These and all subsequent written and oral forward-looking information are based on estimates and opinions of Hexagon Resources Limited management on the dates they are made and expressly qualified in their entirety by this notice. Except as required by law, Hexagon Resources Limited assumes no obligation to update forward-looking information should circumstances or the estimates or opinions of Hexagon Resources Limited management change.
Media and Investor Relations Contact:
G&W Communications Inc.
telephone: +1 416 265 4886
email: hxg@g-w.ca

Figure 1 — HXG & IMC AIM REE joint venture for RapidSX™

IMC and Hexagon's wholly owned US-based subsidiary, Energy Materials of America, LLC plan to form a joint venture — American Innovation Metals Inc. (AIM) — to commercialize the RapidSX™ downstream REE separation technology. IMC successfully developed and piloted the RapidSX™ approach — a proven, enhanced SX technology offering major REE separation efficiencies, with significantly reduced CAPEX & OPEX. The RapidSX™ technology was piloted with US$1.8M funding from the United States Department of Defense, via the US Army Research Laboratory (ARL).
Figure 2 — REE & REO Supply Chain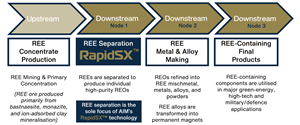 REE separation is the supply-chain constraint. Commercializing the RapidSX™ technology will address non-Chinese REE separation deficiency. REE downstream clients are now demanding non-Chinese metals and alloys for their downstream REE products.
Hexagon RapidSX™ REE presentation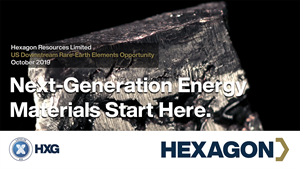 Next-Generation Energy Materials Start Here.