May 15, 2020 -- The Copernicus Hackathon is back! Following last year's success, the Copernicus Hackathon 2020, promoted and coordinated by the European Commission, will be held online next June 5 to 7, and will challenge developers, innovators and designers to look for solutions and Apps, using data and services of the European Copernicus programme.
The Copernicus Hackathon 2020 will introduce this year a challenge on Covid-19 pandemic.
The Italian online Copernicus Hackathon 2020, organized by Planetek Italia, Sprint Lab and OnData, calls innovators and experts to find solutions in the field of water networks, aquaculture, irrigation planning, pandemic and contagions.

Experts from all over Europe will meet on a platform that allows virtual immersion, complete with interactive whiteboards and relaxation rooms to facilitate networking.
Developers, graphic designers, web and App interface designers, together with innovators and data enthusiasts will test themselves by creating innovative solutions using the satellite data made available by Copernicus, the European Commission programme that collects satellite images from different sources and offers them as free open data.
The goals: on the one hand, to create projects that can be useful in solving water-related problems or to fight the pandemic; on the other, to generate business opportunities to overcome the economic crisis it has generated.
The best team will win: a prize of 2,000 euros; access to the Copernicus Accelerator, the coaching programme that accompanies innovative start-ups, who want to do business with Copernicus data and services, for a whole year; and participation in the Consulting Program of The Hub Bari for business development.
In addition to Covid-19, the Copernicus Hackathon in June will launch three other challenges concerning prevention and management of water and sewage network issues, irrigation planning and aquaculture. Nowadays, satellites allow understanding where critical issues are, when dealing with risk prevention, health of vegetation, chemical and physical parameters of waters. A group of stakeholders selected by Hackathon organisers from public and private users present their needs and challenges in advance.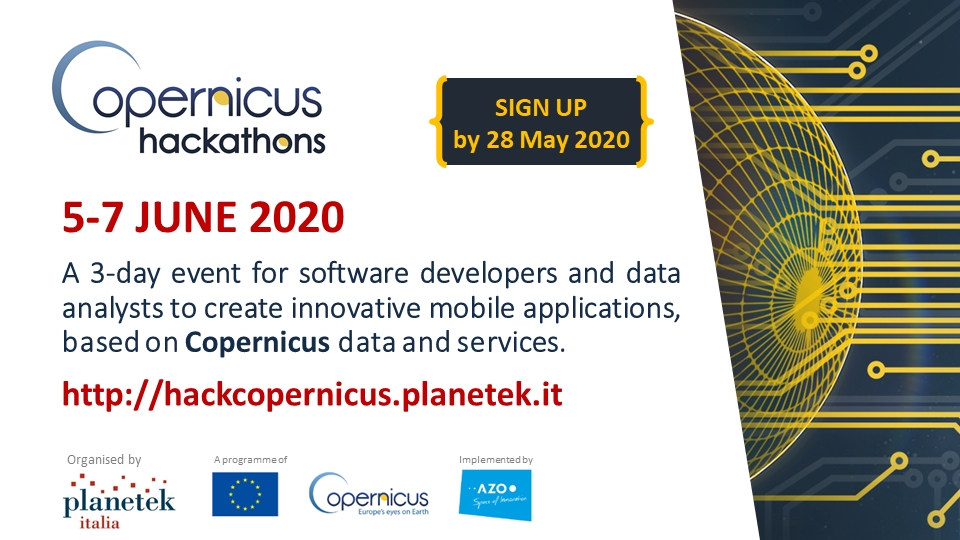 The Copernicus-Bari 2020 Hackathon will take place online on Remo platform.
Registration is free. Register before May 28, 2020.