Sizeable domestic market and the increasing internationalization of project awards helped China to dominate GlobalData's latest rankings of the leading 500 construction contractors around the world.
According to GlobalData, four of the top five positions continue to be held by Chinese firms. The only non-Chinese contractor in the top five is Spain's Actividades de Construccion y Servicios SA (ACS), a group that includes Spain-based Dragados, Germany-based Hochtief AG and Australia-based CIMIC.
China-based contractors in the Global 500 Contractors list had executed contract values of US$327.4bn in 2019, ahead of US-based contractors (US$154.8bn), UK-based contractors (US$72.1bn) and India-based contractors (US$70.7bn).
However, in terms of the number of companies in the Global 500 Contractors list, the US dominates with 83 companies. There are 38 companies with headquarters in China, which is behind the UK (40) and India (41).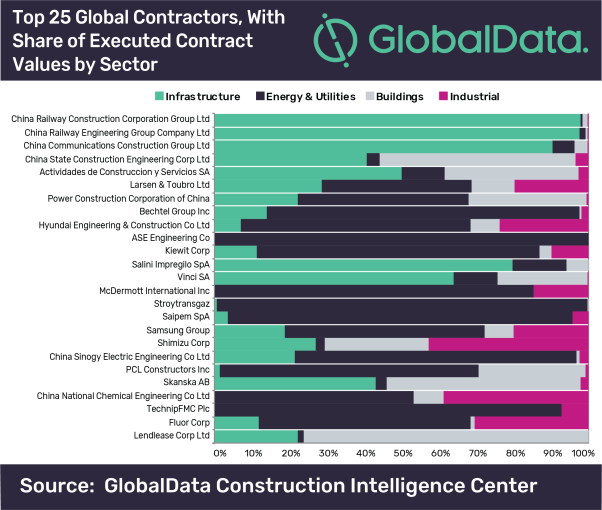 Danny Richards, Lead Economist at GlobalData, comments: "Although the largest Chinese contractors are becoming increasingly involved in major infrastructure projects throughout Asia, Europe and the Middle East and Africa, they remain heavily reliant on operations within China. By contrast, ACS is among the most diversified contractors in terms of sectors and regions in which it operates, which reflects the wide range of subsidiaries that come under the ACS group."
Based on GlobalData's sector diversification index, ACS attains a score of 0.81 (on a scale of 0 to 1, with companies involved in only one sector scoring 0 and those completely diversified across all sectors scoring 1), and for geographic diversification a score of 0.77 (on a scale of 0 to 1, with companies involved in only one major region scoring 0 and those completely diversified across all regions scoring 1).
Infrastructure projects (comprising roads, railways, airports and ports) account for the largest proportion of the executed contract values for the Global 500 Contractors, totaling US$453.5bn. This is ahead of the energy and utilities sector (mainly comprising oil and gas, power generation, water and sewerage projects), which had an executed contract value of US$361.5bn. All buildings projects (residential and non-residential) had executed contract values of US$302.3bn while industrial projects amounted US$64.8bn in 2019.
For more information
To gain access to our latest press releases: GlobalData Media Centre
Analysts available for comment. Please contact the GlobalData Press Office:

EMEA & Americas: +44 (0)207 832 4399
Asia-Pacific: +91 40 6616 6809
Email: pr@globaldata.com
For expert analysis on developments in your industry, please connect with us on:
GlobalData | LinkedIn | Twitter
Notes to Editors:
Quotes provided by

Danny Richards, Lead Economist at GlobalData
Information based on GlobalData's

Construction

Projects Database. Executed contract values in 2019 are calculated by taking the pro-rated value of contracts for projects (with a minimum value of US$25m) that were in the execution stage in 2019.

The Global 500 Contractors list comprises ultimate parent companies, which are attributed the total of executed contract values for all of their subsidiaries.
About GlobalData
4,000 of the world's largest companies, including over 70% of FTSE 100 and 60% of Fortune 100 companies, make more timely and better business decisions thanks to GlobalData's unique data, expert analysis and innovative solutions, all in one platform. GlobalData's mission is to help our clients decode the future to be more successful and innovative across a range of industries, including the healthcare, consumer, retail, financial, technology and professional services sectors.