26th June 2013 --- Masternaut, Europe's largest provider of telematics solutions, announced today that driver performance management and fuel reduction processes are delivering real benefits for the Travis Perkins Group.
As a result, the leading builders' merchant and home improvement retailer recently extended the Masternaut system to a further 1,000 vehicles, covering its entire 3,000-strong fleet. Richard Horton, Head of Transport Development for the Travis Perkins Group, said: "With Masternaut, we have achieved a 70% daily reduction in vehicle idling as a result of greater vehicle utilisation visibility. This is a great outcome for our business and our customers."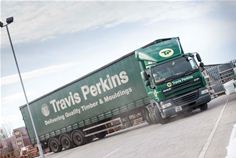 Travis Perkins
The Masternaut system provides full visibility of fleet activity across the UK and allows the Travis Perkins Group to drill down to evaluate the performance of individual vehicles. This has been delivered through a real-time, web-based fleet management solution which includes monitoring the Power Take-Off (PTO) usage on vehicles (classed as good idling), and the non PTO idling (classed as bad idling). Travis Perkins Group managers can access this system via the organisation's intranet interface, helping them to drive performance improvements within their regions.
Martin Hiscox, Masternaut CEO, commented: "The sustained vehicle efficiency improvements of our partnership show that telematics is an area prime for investment. Masternaut was originally chosen ahead of other telematics providers to work with the Travis Perkins Group because of its track record for developing strong working relationships. We have the largest R&D division in the European telematics market and work alongside our customers to ensure each bespoke solution gets them maximum results."
ENDS
Notes to Editor
The target of the Travis Perkins and Masternaut partnership was to reduce the vehicle idling and improve overall fleet efficiency, which focused on three measures:
Depot Turnaround Time - Depot turnaround time is critical to the running of an efficient business through increased productivity. It is the measure of time it takes a delivery vehicle to come to the depot, load the vehicle and leave the depot.

Idling - Idling occurs when engines are left running in the vehicle unnecessarily, wasting fuel and costing the business money.

Straying - Straying is where vehicles from one operational area are doing work in other operational areas. This highlights issues with work allocation, as well as depots taking work outside of their normal remit. This increases vehicle mileage and operating costs.